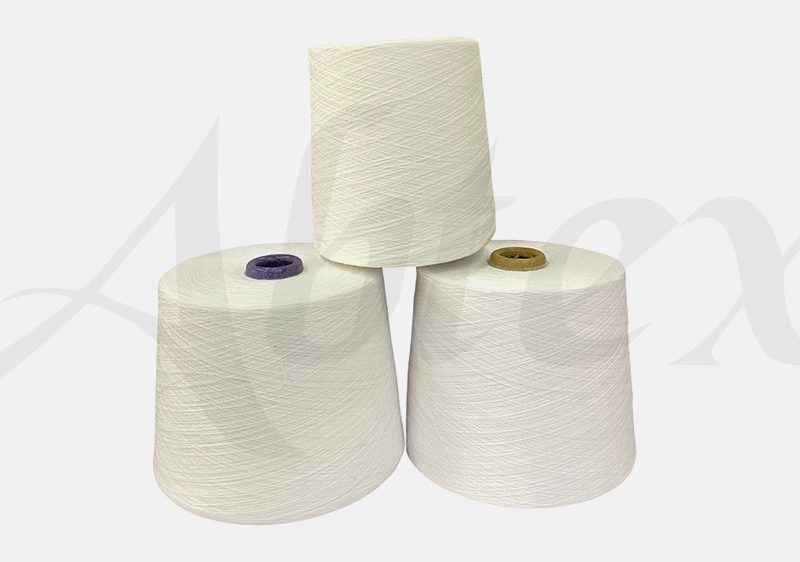 What is Bleached White yarn?
Bleached white yarn is a type of cone dyed yarn that has been treated with a bleaching agent. It removes the natural color of the fibers and creates a bright white appearance. This process involves soaking the yarn in a chemical solution that breaks down the pigments in the fibers. As a result, any color or stain is removed.
Bleached white yarn is commonly used in textile manufacturing for products that require a bright white color. Its includes bed linens, towels, and medical textiles. It is also used as a base for dyeing and printing. Absence of any color in the yarn allows for more precise color matching and printing.
Furthermore, one of the benefits of bleached white yarn is that it can be made from a variety of fibers. It includes cotton, polyester, and nylon. The bleaching process helps to remove any impurities or stains that may be present in the fibers. Which resuls in a clean, uniform appearance. However, the bleaching process can also weaken the fibers of the yarn. Do you want to know if dyed yarn is better than dyed fabric?

Applications of Bleached White Cotton Yarn
Bleached white cotton yarn is widely used in the textile industry due to its various beneficial properties. Here are some common uses of bleached white yarn in the manufacturing industry:
Apparel Manufacturing: Bleached white cotton yarn is used to produce a variety of clothing such as shirting fabric, socks (Especially sports sock) & gloves
Home Textile Products: It is used to make home textile products such as bed sheets, towels, pillowcases, and curtains.
Upholstery: Its used in the manufacturing of upholstery such as sofas, chairs, and other furniture items.
Medical Textiles: Its used in medical textiles such as gauze, bandages, and surgical dressings due to its absorbent and sterile nature.
Abtex International Ltd is a reliable manufacturer & supplier for bleached white cotton yarn & black dyed cotton yarn. We offer competitive price, top quality & unparalleled service to our valuable customers