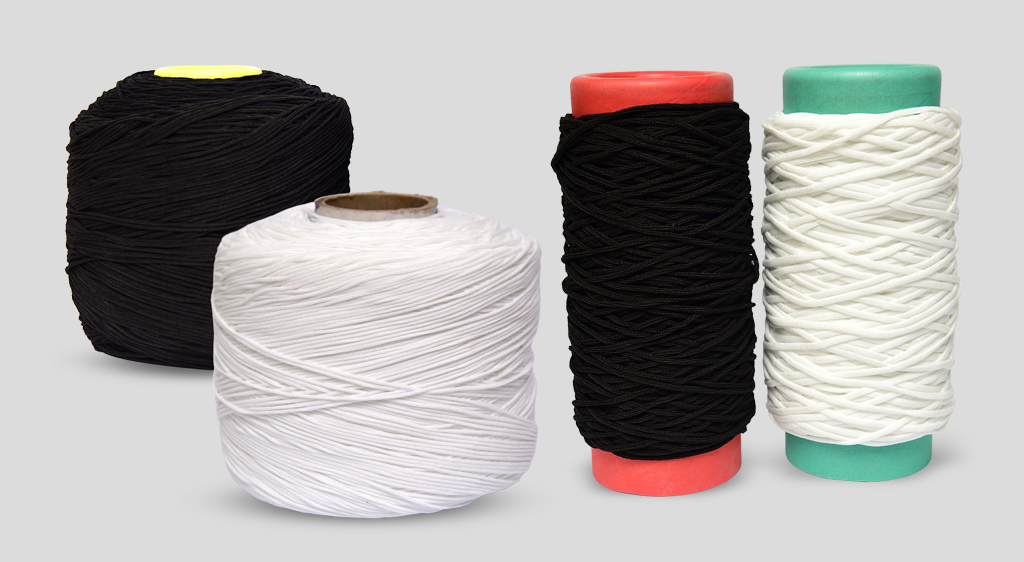 Our quality elastic cord for face masks are specially designed for surgical facemasks while offering facial protection. These are made up of high-grade and professional materials. Also, these earloops are a perfect combination of spandex yarn and polyester / nylon for a good experience.
Moreover, we offer elastic cord / earloop in different shapes and sizes as well, including flat or round ones. The standard color for most of our earloops is white; however, colors can be customized as desired by our customers. We offer black elastic cord & white elastic cord for face masks
Additionally, after COVID-19 pandemic, face masks have become an essential part of our daily lives. One crucial component of a well-fitting and comfortable face mask is the elastic cord. These cords provide the necessary stretch and secure fit, ensuring that the mask stays in place and offers optimal protection.
Furthermore, when it comes to reliable suppliers of elastic cords for face masks, Abtex stands out as a trusted and reputable choice. With their commitment to quality, reliability, and customer satisfaction, Abtex has become a leading supplier in the industry.
Below is our production unit video to understand how we manufacturer elastic for for face masks
Quality and Durability:
Abtex understands the importance of producing high-quality elastic cords for face masks. Our cords are carefully crafted using premium materials that offer durability, flexibility, and excellent stretch recovery. We polyester & nylon as base & spandex for stretch. By maintaining rigorous quality control measures, we ensure that our elastic cords meet industry standards and withstand the demands of daily mask usage. The cords are designed to retain their elasticity over time, providing long-lasting performance.
Wide Range of Options:
Besides, Abtex offers a diverse range of elastic cord options, allowing customers to choose the ideal cord for their specific mask requirements. We provide cords in various widths, lengths, and colors, ensuring compatibility with different mask designs and personal preferences. Whether you need a round cord or a flat cord, we got your covered. We offer nylon elastic cord for face masks as well as polyester elastic cord for face masks
Customer Satisfaction:
Furthermore, what sets Abtex apart from other suppliers is their unwavering commitment to customer satisfaction. In addition to that, we prioritize building strong relationships with their clients by providing exceptional service, prompt communication, and on-time delivery. We understand the urgency in the current situation and works diligently to meet customer demands efficiently.
Ethical and Sustainable Practices:
In addition to our product quality, Abtex is also known for its ethical and sustainable practices. Primarily, we prioritize environmental responsibility by employing eco-friendly manufacturing processes and sourcing materials from sustainable suppliers. Abtex's dedication to ethical practices ensures that customers can rely on their products with confidence, knowing they are making a responsible choice.
When it comes to elastic cords for face masks, Abtex Intl is a reliable supplier that offers high-quality, durable, and customizable solutions. Our commitment to customer satisfaction, wide range of options, and ethical practices make us a trusted choice for individuals, businesses, and organizations in need of reliable elastic cords. With Abtex, you can be confident in the quality of your face mask and the comfort it provides.
With capacity of 9 tons/month, we are offer high quality elastic cord in different qualities
Round Elastic Cord – 2mm
Round Elastic Cord – 3mm
Round Elastic Cord – 4mm
Flat Elastic Cord – 3mm
Flat Elastic Cord – 4mm
Flat Elastic Cord – 5mm
We offer earloop in white, black & any other color based on your requirement. We use polyester & nylon depending on the requirement. Our elastic cord works very well on fully automatic machine which results in higher efficiency for your machine.
Feel free to reach us out for a quick quote. We have ready stock