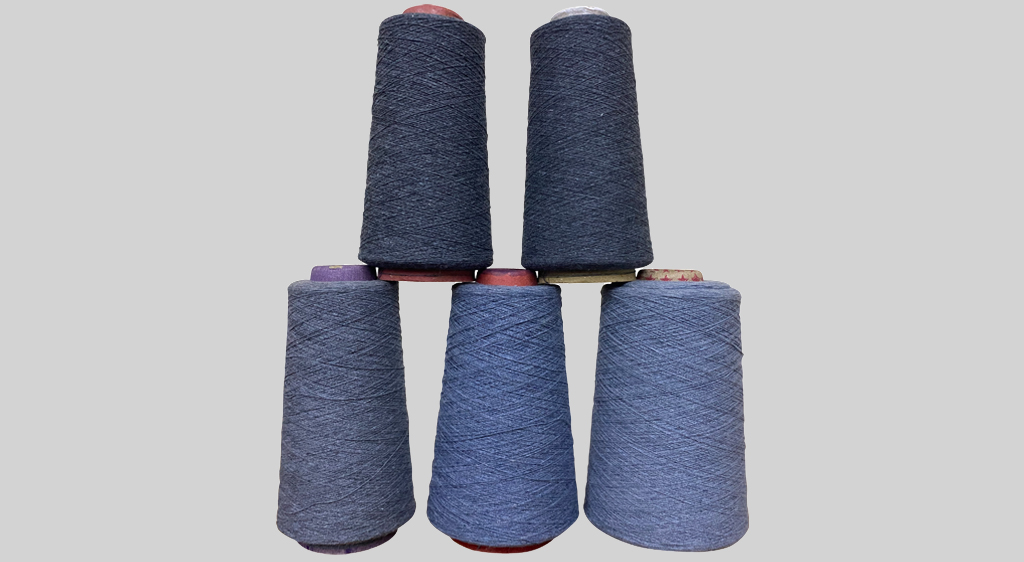 Reused and recycled denim yarn is another excellent yarn product at Abtex international that we bring to our valuable customers. We introduce you to 100% recycled denim yarn with the lowest impact on the environment, making it an environment-friendly and sustainable option. These recycled denim yarns are made of 70% cotton taken from denim waste and 30% from recycled polyester obtained from plastic bottles.
Our recycled and reused denim fibers are spun in a range of 6 to 16s Ne. These yarns are versatile and can be used in different areas like footwear, home textiles, and other accessories.
Abtex international recycled and reused denim yarns are available in different colors ranging from lighter tones of blue to darker ones. These yarns are also available in melange and have substantial effects that you can use in other areas like designing pillow covers, coasters, mittens, bathrooms slippers, and much more. This isn't just it.
These unique yarns are also available in different thicknesses for you to select just the right one for your use. Since each purpose requires a different yarn thickness, you can choose whatever suits you.
Recycled and reused yarn is an environmental-friendly and sustainable solution for the textile industry. Our recycled fiber yarns are available in different counts, blends, and designs based on how you want them to be.
Abtex International is a reliable brand that delivers high-quality recycled yarn to its customers so that they can take part in finding environment-friendly solutions for our growing textile industry.
We are Reused and Recycled Denim Yarn Supplier and Manufacturer.
Recycled Denim Yarn Blends:
Cotton Poly 80/20
Cotton Poly 70/30
Cotton Poly 65 / 35
Cotton Poly 60 / 40
Cotton Poly 50 / 50
Other special blends are available on request
Poly Cotton Yarn Count Range:
Ne 6s to Ne 30s in Autocoro, Ring Spun Carded and Combed
End Use of Poly Cotton Yarn:
Weaving
Knitting
Specialized Fleece Knitting yarn is also available in counts Ne 10s, Ne 12s, Ne 14s, Ne 16s
Packing:
Feel free to contact us with your requirements